Wedding Photographer Kansas City

Here is some truth from your favorite wedding photographer: ANYTHING CAN HAPPEN ON WEDDING DAY! Anything…
When hiring your photographer, you need to ask yourself,  'Will my photographer be ready for anything?'
I'll share a secret with you, something I've never vocalized before…
When I photographed my first wedding, I WAS definitely NOT ready.  Even with a degree in photography, dedicating four years to refining my skills, I wasn't at all prepared for what wedding day can throw at you!!
I photographed my first wedding in 2002 and I was shooting with my FILM camera. With 12 rolls of 35mm film and 10 rolls of 120; I carried my Minolta along with a Mamiya RB 67. The Mamiya was a medium format camera that had to remain fixed to a tripod. It was insane.
These were FILM cameras… that I focused manually.  Each frame MUST be counted when you have a limited number of frames! You easy run out of film if you get careless.
So back to that first wedding- the one where I had a general idea of what would happen: the bride will to walk down the aisle to meet her groom, they'll both say 'I Do' and then dance the night away into happily ever after, right? 
After that first wedding, I realized that the story of your day is so much more than that. You never know if someone will burst into tears or pass out at the altar.
I was never fast enough..   My ISO was locked in at 800 because that was the limit of my film.   It took a lot of patience, watching, waiting & learning how to anticipate when a magical moment might happen.  Time & patience pays off and when I bought my first Digital SLR in 2005, my world opened to endless possibilities!
I've had the pleasure of capturing more than 250 wedding over the last 13 years!  And over the course of the last decade, I still charge forward on wedding day waiting for the unexpected… the moments that happen in between the action.
When the veil catches fire or your groom jumps for joy just after the ceremony, rest assured I will capture it!  Perhaps the newly weds bust out a crazy dance when you hit the floor… or the groom gives his bride a smile in response to her unexpected tears… will your photographer be ready?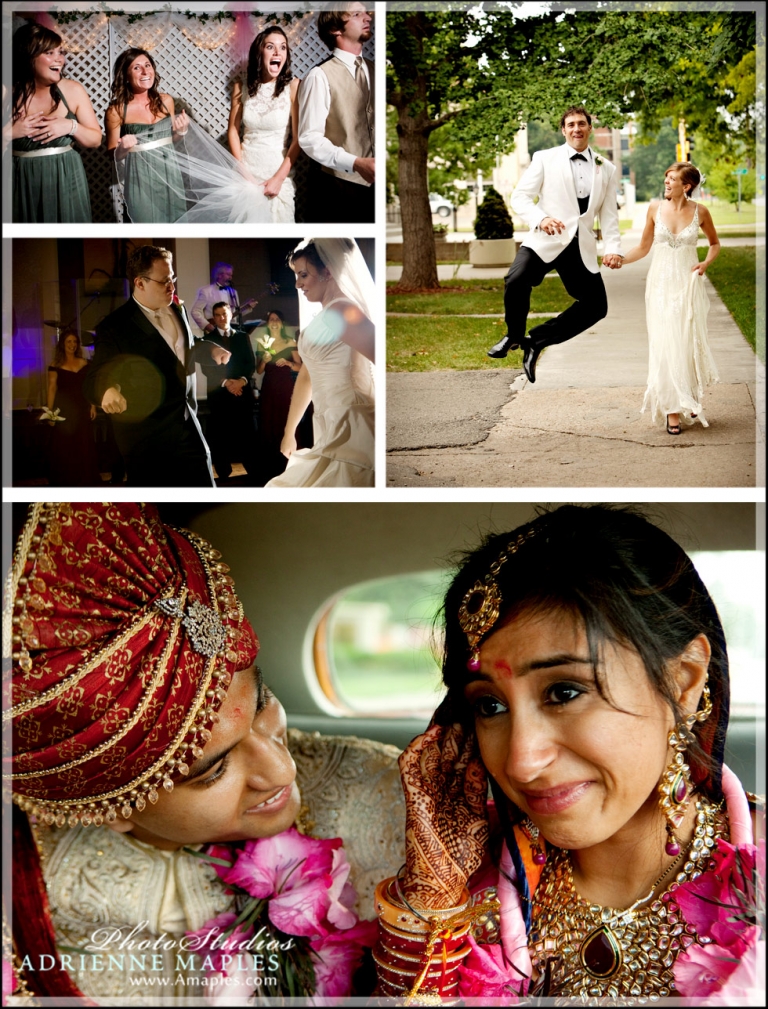 Now I want to tell you a little story about a bride named Leah- who championed any other bride I've worked with before and by her willingness to have a great time no matter how out of hand the morning had gotten.  You see, when you go into your wedding day with the simple desire to have a memorable day… magic happens.  Something that will probably never happen again.
There we were, in the middle of Loose Park with the entire wedding party, when we spotted him.  A man in a blue Royals shirt was walking through the park wearing a giant snake as an accessory.
I had to do a double take… we were in the middle of the city- the most popular park in Kansas City… who walks around with a snake?!?
That guy does.
I turn and face my bride. She noticed him too and I see the spark of interest in her blue eyes. Before I know it, I am motioning to get his attention and encouraging him to approach us.
He was MORE than happy to show us his snake- a 12 foot Python who's name I can not remember… and he asks my bride if she wants to put him on her shoulders.  What happened next was all a blur as I happily snapped away trying to capture this moment.
This VERY unexpected moment!!  The highlight of my day.
In normal situations, you would see my shy away from a snake.  They have always made me a bit nervous, especially a very large snake that could easily collapse a lung if he decided to tighten his grip!  But I was seeing him through my lens and that makes all the difference.
But Leah was the bravest bride- she laughed & smiled, delighted in the fact that this was her wedding day.  And she made it her own.  A wedding day that won't be easily forgotten.  A day chocked full of laughter, love & yes,  snakes.