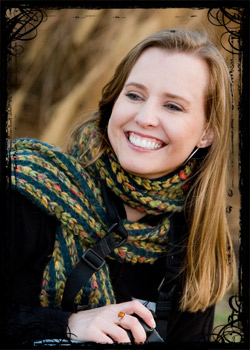 Ashlee Brewer
Learning the art from her father- also an accomplished photographer- Ashlee's passion for photography skyrocketed when she witnessed her first print emerge into life amidst the quiet peacefulness of her high school darkroom.  Training with Adrienne since joining the team in 2006, Ashlee quickly proved an integral part of the studio.
Since joining the studio, Ashlee regularly submits work and has been recognized by several national competitions.  Her work has been published in Elegant Bride, Modern Bride, KC Weddings & The Knot.  But Ashlee's gift in revealed in her uncanny ability to find life in the small- typically unnoticed- most of us miss.  With sublime artistry, she translates every delicate detail into a universal expression and representation of the wedding day.
She specializes in senior portraits & pet portraits as well as offering her services as a second shooter beside Adrienne & Rob at weddings.  When she's not behind the camera, you can find her snuggling with the newest addition to her family, Dalton Christopher, born in the Summer of 2011.