Here's how to request your digital files-
All photography services include a set of digital *files for personal printing (*number depends on your session purchase). Select images by referencing the file number under the thumbnail.
Locating your Image Numbers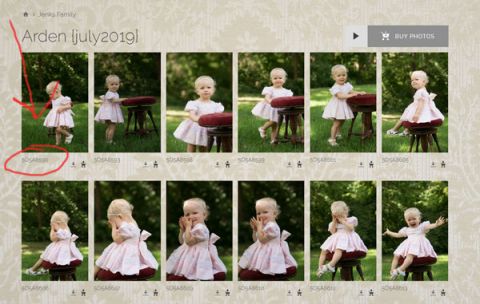 After choosing your images, use the form below to submit your numbers (scroll down the page). Your image files will be exported, color corrected, adjusted for density and personally optimized for your personal printing purposes.
When will my files be ready?
Generally your file will be ready for downloading 12-14 business days after your request is submitted and received. Look out for our email for confirmation and a link for accessing your files.
When you receive your files; DOWNLOAD THEM IMMEDIATELY- they will remain online for ONE WEEK!
If you are a Loyalty Client…
For families with a current signed up with our  Loyalty Plan, will receive ALL watermarked proofs. With the annual purchase minimum, you'll receive a complete set of digital proofs without watermark.
Your mages are optimized and watermarked ready for posting online.  The watermark protects your images from being stolen & used without permission by a third party.  Remember to credit us when sharing on social media!