I've known the Pelletiers before they were a loving family of six… I remember when it was just Angela & Tom- saying 'I do' in front of the fountain in Savannah, Georgia. I still remember their wedding day well.  I was fresh out of college, still trying to discover my strong points as an artist.  I was also trying to discover what would set me apart & how would that translate into the kind of images and stories I wanted to tell.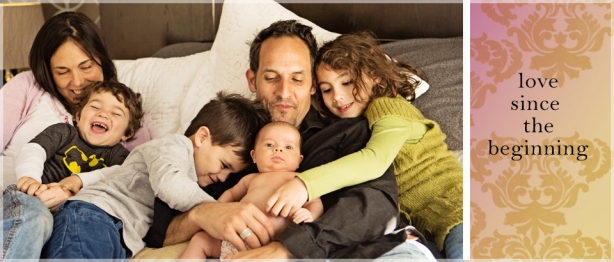 Their wedding was one of my earliest, I believe I had twelve under my belt at the time and of course, I was still shooting film. No instant digital screen to confirm my exposure. But I had their trust & most of the time that's all it takes, even today.
Their wedding helped me know I was on the right track.  It was an amazing day, we went where the moment took us.  The result was a laid-back, wonderful day with creative shots I could never have 'planned out'.  The wedding made the cover of Southern Bride Magazine- my very first publication!!
Since that faithful day, they've allowed me to capture their family as they grow.  I'm overwhelmed every time I enter their home & see their living room wall covered with the images I've taken over the years. It warms my heart, and tells me that the images I've taken will always mean something to this family.  I have captured the beginning, their growth & the amazing individuals their children will become.  In a way that I only know how.
This is my reward.