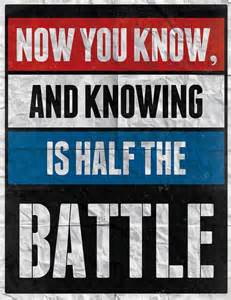 It's best to know your enemy before beginning the battle.  This is certainly true of Lyme Disease! And with Lyme Disease quickly becoming an epidemic, it's more important than ever to teach your children prevention.

'Knowing is half the battle…'
Do you remember this old G.I. Joe adage??  It played over and over and OVER in my head the first time my husband was hospitalized because of Lyme disease.
At the time, we had no idea what was keeping him so ill.  I told myself if I could just discover the cause…
…If I JUST KNEW what it was…
That would be half of my battle.  I fought my way to discovery and then I fought for treatment. I was in for the fight of my life in order to save his.
Now I want to help save others.  By teaching prevention & EARLY detection, we can prevent this epidemic from crippling our children!  Here is what you need to know.
———————–>>>  Lyme disease is trasmitted by ticks, gross little blood suckers. However, then need to be attached for a while to transmit the disease. But the situation should always be monitored and taken seriously. Early detection, a round or two of antibiotics and you are scot-free!! Waiting until a month or more has passed to address the problem will allow Lyme disease to take hold.  It's a living organism, don't give it a chance to reproduce!
But what if… what if I find a tick and it IS attached???