Megan & Jason: A Westport Love Story

It's been almost seven years since I met up with Megan & Jason in Westport to take their engagement photos.  I quickly became enamored with these two, as they dancing around Wesport telling me the story of how they met.  Before long, we were celebrating their wedding in Topeka where Megan grew up and, shortly after the wedding, Megan was packing up their house in preparation to jump continents.  She has settled in nicely & happily calls the land down under her new home.  We keep in touch via Facebook & email and I secretly hope that one day I'll be heading to Australia to capture their life out there.  In the meantime, I'll continue to enjoy living vicariously through Megan's photos as she snuggles koala bears & plays with crocodiles.  (Kidding on the crocodile part!)
I think you have a really amazing love story, so let's being with how you first met?
Like all great love stories, Jason and I met at the pub. Harry's Bar and Tables in Westport is one of my favorite bars and I was there one night with friends. It was my turn to get drinks and it was a busy Friday night. I made my way up to the bar and a foreign accent said hello. We ended up chatting for ages. I found out that Jason and I were neighbors, both frequented Harry's. He had only been in town a month and was on a three-month assignment in between work projects. We shared many laughs and although I thought he was super fun and incredibly good looking, I was dating someone at the time. When that relationship came to end shortly after, I remembered that Jason lived a couple of streets over and I gave him a call. While his version of the story makes it sound almost as if I chased him down and tied him up against his will, the reality was that we saw each other nearly every day thereafter.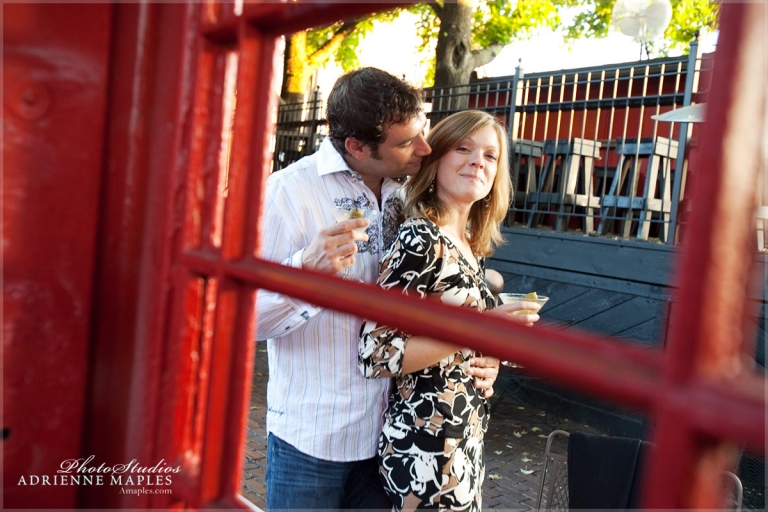 When did you first know that he was THE ONE?!
After the second time I spent time with Jason, I didn't exactly know that he was the one (I was fresh out of a relationship after all and not looking for anyone), but I recognized very well that I had never met anyone like him, I was grateful to have met him and I hoped that I would end up with someone like him someday.
How long did you date before he popped the question? Tell me about the night he finally proposed…
We had dated for just over four months when Jason told me that he wanted to marry me. Two months after we met we both moved to separate cities about eight hours apart; he to Springfield, MO and myself to Chicago. I had been there a week when Jason came to visit after New Year's, and I suddenly found myself not looking for jobs in Chicago, but rather Springfield. Two weeks later I packed up the cat and my things and drove to Springfield to surprise him for his birthday. Two months later we were meandering through an antique shop, hand in hand, and he stopped to tell me that he wanted to spend his life with me. I agreed. There was no ring, it was unplanned, but it was perfect.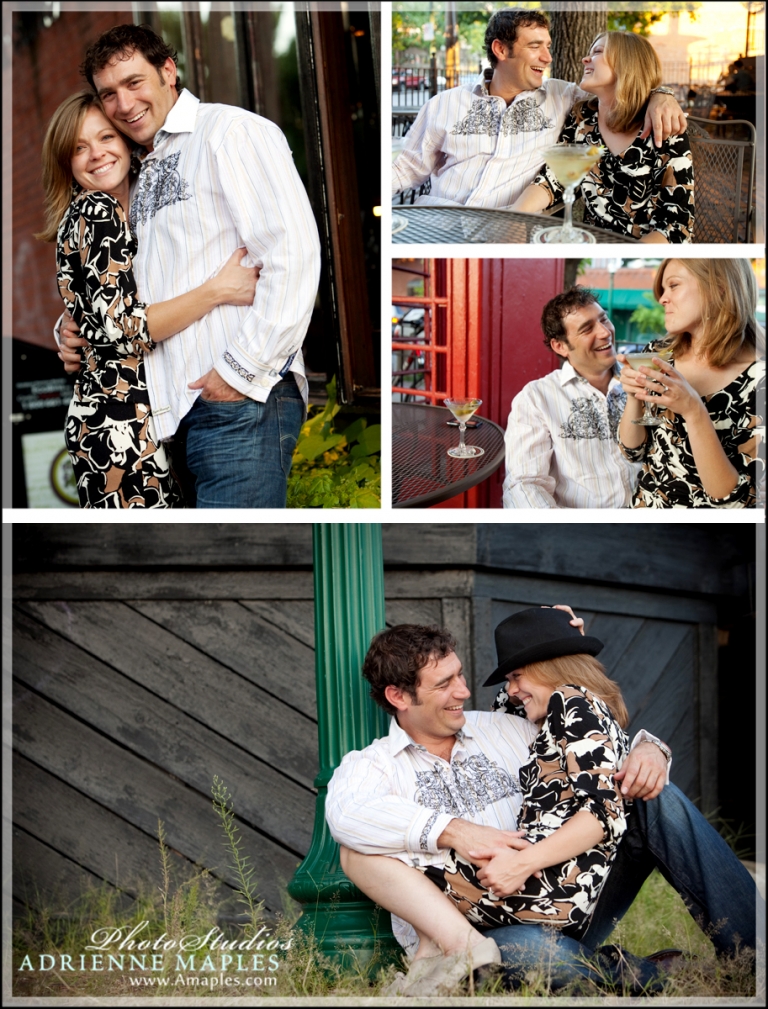 After the Wedding
I still remember your wedding very fondly… I remember it rained a little bit that day but everyone was high spirits.  Exactly how many years has it been now? 
Jason and I will have been married six years this coming August.
Years later, what is still your favorite wedding day memory or a favorite part of the day? 
I have a few actually. The first happened during the ceremony. I'm a bit of a crier when things get emotional and I think I was teary from nearly the moment I woke up that morning. After I finally got a chance to see Jason, our first moment 'alone' together was the back of the alter lighting candles for deceased loved ones. I remember being very emotional and Jason holding me tight. He didn't say anything but he didn't have to, I felt safe.

Later at the reception I found myself talking and talking and talking to guests. It was wonderful to see them and I appreciated their presence, but I remember thinking that I just wanted to let loose on the dance floor. So then I remember dancing and dancing and dancing with Jason, friends and loved ones. It was nearing the end of the night and I turned around to see my dad standing there with his arms open for a dance. In all of the action I had almost forgotten about him and he came to find me. I appreciated this moment and dance with my dad more than any of the others.
At the end of the night we had arranged for a limo to take Jason and I from the reception to the hotel. We never took the time to eat and we were absolutely starving. Like an angel from heaven, one of my bridesmaids came out of the kitchen with two huge plates of food that she had stashed away for us; it was brilliant! And then she and the rest of the wedding party hopped into our limo and rode off to party elsewhere. Jason and I ended up on the bus back to the hotel.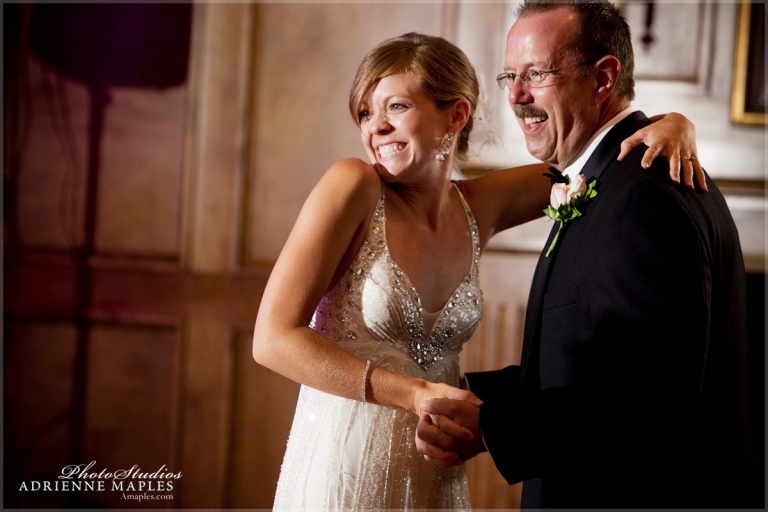 Do you recall what the hardest part of planning your wedding was? In retrospect, is there anything you wish you'd done differently? 
The hardest part about planning the wedding was trying to please everyone, or at least thinking that I had to try. For me there became a level of guilt surrounding the amount of time, effort and money going into everything that I wanted to day to be what my parents and grandparents wanted as well. Looking back I wouldn't change anything, but perhaps I would have tried to enjoy the process a little more. Oh yeah, and I probably would have hired an event planner!
Any superstar wedding professionals that helped make your day fantastic?
For the record, Adrienne, it was you. If you hadn't taken charge when things were chaotic and about to fall to pieces, I'm not sure how the evening would have played out. I have always remembered that and I thank you so much. You really are the best. 🙂
Well, I wasn't fishing for a compliment, but I will take it!  Things like this make me heart happy.. even though it's been SIX years- you still think fondly of me!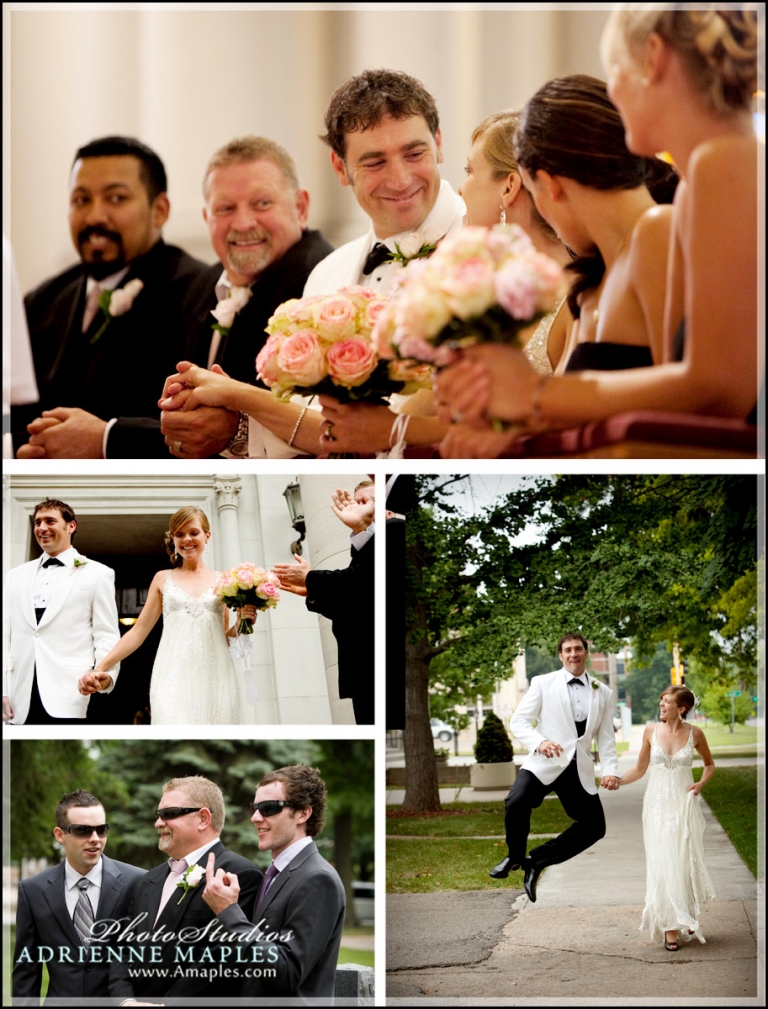 And do you want to tell us how life has changed since the wedding? Have you always imagined yourself living somewhere far from Kansas? I'd love to know a little bit about how life is different in Australia than from the Midwest? I imagine lots of kangaroos & plenty of time spent snuggling Koala bears. Which I've seen photos on Facebook- I know you have fulfilled every little girls' secret desire to hold a Koala bear!!
I spent a lot of time growing up wanting to get as far away from Kansas as possible. I thought it was so boring and ordinary, and with so much world to see – surely life was meant to be so much more exciting. Now that I have been away for over ten years, and having seen many beautiful and interesting parts of the world, I find it very emotional to go home. Not only am I way too far from my friends and family, but Kansas has somehow become one of the most beautiful places I have ever seen. Australia is extraordinary and it continues to offer us many opportunities to learn and grow, but nothing seems to compare to that Midwestern hospitality and friendliness.
I have reluctantly lost most contact with Mexican food, and watching my favorite teams is nearly an impossible task, but we are extremely fortunate to be surrounds by so many amazing friends who teach us about cool things other than college basketball (by the way, my Australian friends LOVE Thanksgiving and Jason continues to fry more and more turkey each year to feed the masses). Overall we hope to one day split our time between the two places more regularly.
Now that you are married and living on another continent, what's next for you two? What are your hopes & dreams for the future?
Jason and I have both started business in Perth and we are concentrating on those at the moment. We do not have children, and we live far from our families, so we're trying really hard to learn how to be good to each other and be good citizens of the world. We still like to have a boogie and socialize in between long work days, but we're concentrating a lot on maintaining a sense of who we want to be while negotiating the balance of all things pertaining to life. I'm really not too sure what's in store for us next, but I do know that it is going to be amazing.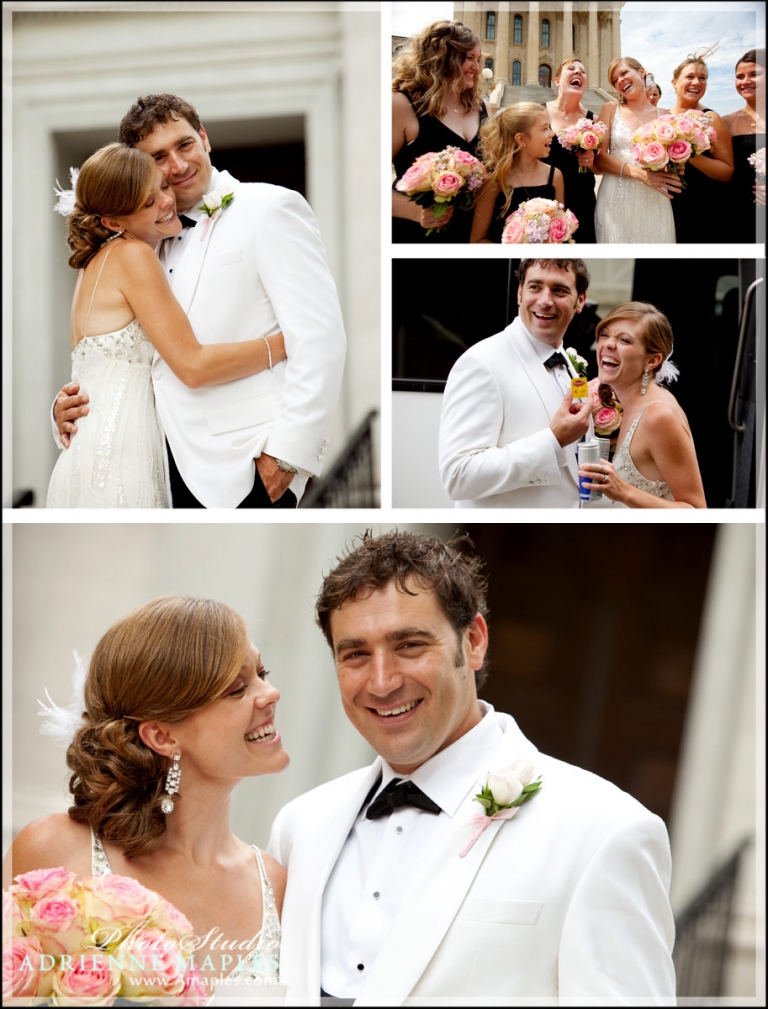 Internationally
award winning
photography studio