Not just known for wedding gowns, Altar Bridal, is the place to look for accessories for any special occasion.  This week we are learning more about the shopping experience you can expect with Dede of Altar Bridal.  Just last year, the shop was voted the best place to find a wedding gown in Kansas City by KC Magazine's Best Awards!  And I have had a number of very happy brides who have found the perfect gown with Dede.
I remember it being a bit nerve racking when I went into a bridal shop for the first time.  Lots of expensive gowns & I wasn't sure what I could really afford.  It makes a huge difference being in a shop with someone who WANTS to help you find the perfect gown & Altar Bridal does just that.
Photo below courtesy of KC Magazine.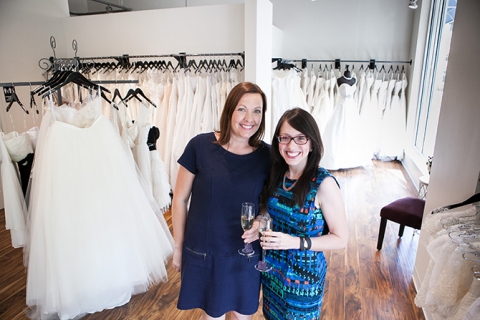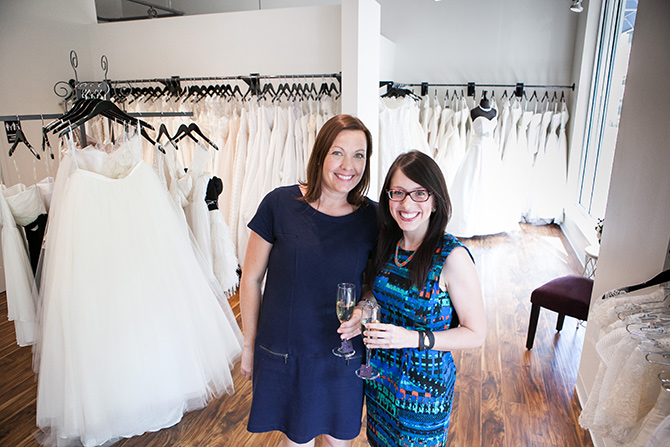 Q::      For readers that are not familiar with your company, Altar Bridal, can you describe & tell a little more about it?
Altar Bridal was created for brides who want to shop for fresh and fashionable designer dresses in a relaxed and personal atmosphere.  The boutique focuses on designer wedding gowns and wedding day accessories.
Altar Bridal brings a different shopping experience to Kansas City brides in many ways.  The store itself is open and modern. Dig deeper and brides will experience fresh designers not carried at any other store in the Kansas City area, a fully educated and experienced staff in gown fit and fine fabrics, and service that strives to be the best anywhere.
Altar Bridal is focused on bringing new designer names to Kansas City as well as supporting those designers that are right here in Kansas City.  We are proud to say that two of the store's gown collections are designed and constructed in Overland Park.  The store also carries seven accessory lines all made here by local aspiring designers.
Q::      The wedding gown is PARAMOUNT!!!  When do you usually see brides in the process of planning their wedding?
I would say that the majority of brides, not all, are most excited to start wedding gown shopping when they get engaged.  We are not necessarily the first thing they do but we come quick on the list after setting the date and booking a venue. So we see brides pretty early in the process – usually 9 months to a year before their wedding day (some a lot further out). Our recommendation when it comes to shopping is to try and have your gown ordered no less than 6-9 months before your wedding.  This gives a bride plenty of time for the gown to arrive and still leave time for the alterations process to be done at a stress-free pace.
Q::       How long have you been helping brides find the perfect gown?
Informally I've been helping friends pick THE gown for many, many years. But formally, Altar Bridal will celebrate 5 years of being open in June.

Q::       I've worked with a number of brides that LOVED working with you Dede!!  One bride in particular told me it 'felt like heaven' when she walked into your shop & met you.   Can you tell me a little bit about how it works- 'getting a gown from Dede'?  For brides that might be intimidated by their first visit to a bridal shop?
Well first off, I'm totally flattered and proud that a bride would have such awesome things to say about Altar Bridal and shopping with me specifically.  When we opened 5 years ago, our #1 goal was to have a bride's referral when she walked out the door.  We don't have every bride's dress but we can treat everyone with respect and try to make, what for some is a stressful time, more fun!
Our approach when going into each appointment is to listen first to what the bride thinks she is looking for.  That doesn't always end up being what she wears, but it's important to listen to their vision, their likes and dislikes and get a feel for their personal style. From there we insert our knowledge of gown designers, fabrics, and fit to really guide a bride to what is going to fulfill her vision and have her looking her best for the big day.
I'm also very blessed to have such a great team to work with at the store.  All of our brides adore our store manager, Sara, and our new team member Kristin is receiving rave reviews as well. They both bring sweet smiles and a great energy to the store.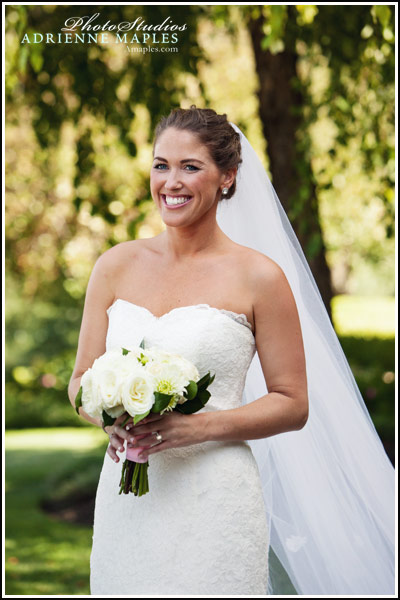 Q::      Do you have a favorite 'hero' story that you are most proud of?  Come on, we all want to hear about 'the dress that almost wasn't'  or the cRaZy bride who wants a million last minute changes.
Haha! We do often get asked if we have to deal with a lot of "bridezillas". And honestly we can say that we have had very few encounters of that kind.  The bride that buys from us typically enjoys the personality of our store. We are laid back, pretty chill girls that truly just want to help brides find a gown they LOVE.  Of course we know that brides do a lot of shopping but there is something to be said for finding a store you click with and know will have your best interest at heart from purchase to the aisle.  We like to think we are one of those stores.
Yes of course we have had our share of "bridal emergencies" but we approach each issue knowing that there is a solution. And we make sure that there is a Plan A, B and/or C before we even bring a bride into said situation.  Making sure there are options, back-up plans, and our calm demeanor really make all the difference in an issue being just something to make right and total freak-out mode.  Staying away from total freak-out mode is key in every situation and taking the stress out of a situation works wonders more than you can imagine.
Ok, stories.  I'll just montage a few for you…yes, I did drive to a bride's house mid-Saturday because we received a call that they couldn't get the dress zipped.  Luckily it was down the street from the store and really all they needed was someone with a zipper callus! Zipped right up. Freak-out mode averted.
Yes, we have given a wedding planner a veil off the floor less than an hour before the bride was walking down the aisle. Note: Do NOT let the groomsmen be in charge of any part of taking your wedding gown or accessories to the church! Freak-out mode averted.
And YES, I have had our tailor cut a dress in half and merge with the bottom of our stock piece less than 12 hours before a bride was getting on a plane because the fabric took an unfortunate turn for the worse when steamed.  Ok, I was in freak-out mode on the inside, but the bride was quite possibly the most gracious bride I've ever worked with.  She ended up with a beautiful gown and looked amazing on her wedding day. Whew! Major freak-out catastrophe averted.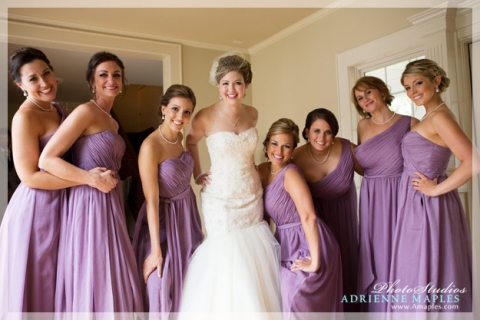 Q::      Tell us about your selection of gowns?
Our selection of gowns range from funky to traditional, flirty to sophisticated, and understated to over the top wow! We keep the collection smaller and well curated unlike most bridal shops, but this allows us to focus more on having a larger variety of styles and unique designers versus just a lot of dresses that might all look alike. Hands down, we pick quality over quantity when it comes to our collection any day! Most of all we like to think our collection of gowns are well-constructed, good quality gowns. The majority are made in North America versus overseas. A bonus that allows for more modification on a gown and shorter delivery timeframes.
Since our collection of gowns are not carried in any other store (with the exception of one line) we know that brides will see something different when they shop with us. In fact, we have brides travel from the surrounding 5 state area to see gowns by some of the designers we carry as no one else in the region does. We are always researching and seeking out new designers that are bringing something new to bridal fashion. This keeps our store fresh and on trend. So, if you are looking for something you haven't seen walk down the aisle 5 times already…we are definitely your kind of store.
Q::      What's the best advice you can give brides who are searching for the perfect gown but are on a budget?
First off, everyone is on a budget when planning their wedding.  Just everyone has a different amount they are trying to stick with.  And when it comes to the dress, each bride ranks the importance of it differently.  Side note: We of course think the gown is extremely important. You may only wear it once but it's in all your pictures, it's what everyone talks about before, during, and after the wedding and well, it's one of the few things you still have after the wedding is over…just sayin'.
We think it is very important to have a general idea of how much you want to spend before you head out. It is also important to research the stores you think you want to shop at. Not all shops are the same and even if you would love to shop with them, if they don't have anything close to what you are looking for, it's not going to be the best experience or use of your time. Sure, I get it, trying on gowns is fun, but it can become not so fun if you do too much of it at stores that don't carry what you are looking for.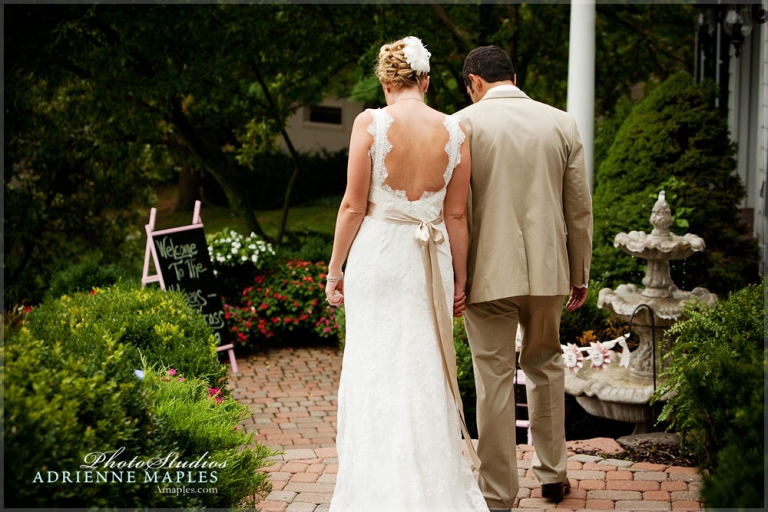 Q::       Anything exciting in the works that we should know about!?!
I always have ideas swirling around, I just wish there was more time in a day! Since our move to the Leawood area last summer, we have been getting settled and the store put together. We are always brainstorming things we can do to continually improve the shopping experience and our communication with brides after they purchase a gown from us. But yes, there are a few other fun things in the works.
We head to NYC for Bridal Market in April and we have a list of new designers we are going to check out. I'm also headed to LA to see an exclusive presentation for one particular designer we have really had our eye on! So stay tuned for those fun updates. And now that we are finally feeling settled in our new home, get ready for some fun events that we hope to host.  We turn 5 in June and certainly can't let that milestone pass without some sort of fun celebration!
CONNECT WITH Dede & Altar Bridal:

Altar Bridal: 913.451.GOWN (4696)

5220 West 116th Place

Leawood, KS 66211

Email us: hello@altarbridal.com

Make an appointment: http://www.altarbridal.com/contact/appointment/

Internationally
award winning
photography studio