An Engagement Story: Sarah & Nick

Q::      How did you first meet?
Nick and I met at the hospital where we both work. Apparently he'd seen me around and finally caught up to me one day. He politely introduced himself, and then promptly asked for my expert opinion on what a physical therapist would do for a broken pinky toe. What a pick-up line! (I told him to buddy-tape it, and toughen up!) 🙂 For the next few weeks I desperately tried to figure out how to "bump" into him at work…which was quite a challenge! Every chance encounter we had gave me butterflies and left me giddy, anticipating the next surprise conversation. When he finally asked me out to dinner a few weeks later, I couldn't contain my excitement! Even now, I still get butterflies when we see each other at work! 🙂
Q::      When did you first know that he was THE ONE?!
Things were so easy and natural, right from the start. From our first date, we were nearly inseparable. When we finally got to the dreaded Three Month Mark (in my opinion, the make-or-break time when things either get serious or simmer down…) I realized… I'm in this for the long haul!
One evening when I was leaving to go home, after a hug and kiss goodbye, those 3 little words automatically slipped out… of his mouth! We both looked shocked, and he muttered something about just being used to saying that to his dog… But I knew. Wow, this guy just accidentally told me he loves me. And I love him too!
Q::      How long did you date before he popped the question? Did you have any idea that it was coming?
We had been dating for about 2 1/2 years. I was ready, and he was too. It wasn't a question of "IF", but only "WHEN". My little sister was recently engaged, and Nick was honest with me that no engagement would happen for us until after my sister was married. It was her special time, and he didn't want to take away from that. I am still amazed at his thoughtfulness. It speaks to the kind of gentleman he has always been.
I never dreamed that a mere 5 days… 5 days!!!… after her wedding, he would propose!
Nick surprised me with a birthday trip to Vail, Colorado. They had a fun Octoberfest weekend going on, and we love being in the mountains. I secretly hoped a proposal would happen that weekend, but he had convinced me it wasn't even a possibility. I put it out of my mind, and didn't give it another thought. Boy did he have me fooled! His planned proposal was disguised as a birthday getaway!


Q::      Tell me about the night he finally proposed…
It was a rainy day in Vail. Nick had planned a gondola ride to the top of Vail Mountain, where he hoped to propose with a breathtaking view. But the weather didn't cooperate. We bopped around town for a while despite the cold and drizzle, and then decided to relax in the hot tub at the resort for a while.
Before I knew it, he was down on one knee… "Hoffmeister, I have something to ask you…" Which is usually followed by something like "Can we get a cupcake for dessert?" or "Will you rub my shoulders?"… Nick is very rarely serious!
So naturally, I laughed it off like he was joking.  When he pulled out a ring, and asked me to marry him!?! It was all a blur.  I did the happy laughing/crying at the same time, instantly trying to solidify everything about that moment in my memory.
Later that evening he planned a spectacular dinner, followed by cocktails in the lounge, where the band played Tequila Sunrise (one of our favorites!) just for us. Every time we hear it, we think back to that amazing rainy evening in Vail!
Q::      How long have you been planning your wedding? When is the big day?
Our wedding is almost 8 months to-the-day from when we got engaged. Not too short, not too long, just right! We started planning right away, and it's been pretty smooth so far! May 2nd will be here before we know it!
Q::      So far, what do you feel have been the best decisions you've made, other than your photographer, of course!
My very best decision… The groom, of course! 🙂
Second best decision: the venue.  I think our Hallbrook Country Club wedding will be absolutely perfect for us, and our guests.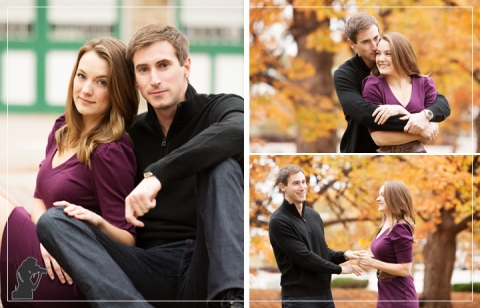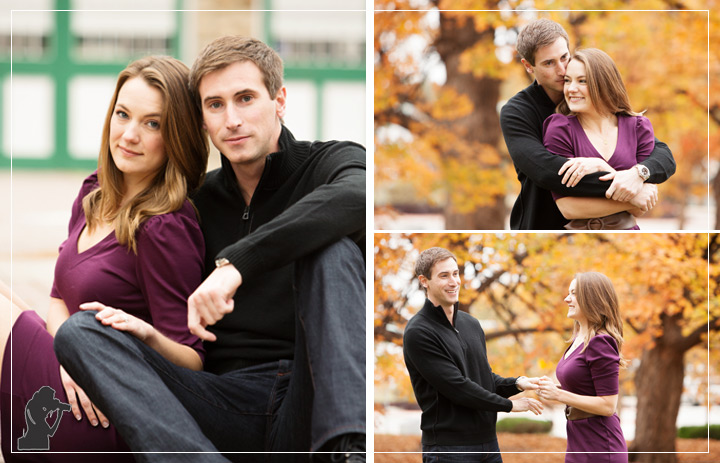 Q::      What has been the most difficult decision?
Like everyone says, the guest list is a challenge. It's so difficult deciding which friends and family to include, especially when there's a limit. You have to draw the line somewhere. Of course we all want EVERYONE to be there, but reality sets in and those tough decisions have to be made.
Besides that, I thought looking through those massive invitation books was incredibly daunting! Endless possibilities and they all start running together. Picking an invitation was definitely more difficult than finding the dress!
Q::      Tell us the range of emotions you're feeling now that it's almost here?!
Believe it or not, I'm incredibly calm. I've tried to maintain a low-key, low-stress attitude throughout the whole planning process. Not sweating the little stuff has been my goal. And it's working pretty well! Every now and then I have a panic-moment, when I'm reminded of little details I haven't taken care of yet (programs, menus, place cards, etc). But for the most part, my emotions are purely excitement, joy, and anticipation of a special day…and the lifetime that will follow!
Q::      What are you most looking forward to? 
My favorite moment of every wedding isn't watching the bride walk down the aisle… it's watching the look on the groom's face when he sees his future wife walking towards him. I can't wait to look into Nick's eyes during that moment. Plus, I'm looking forward to seeing that wedding ring on Nick's finger, and knowing that everyone who sees it will know… that he's MY HUSBAND!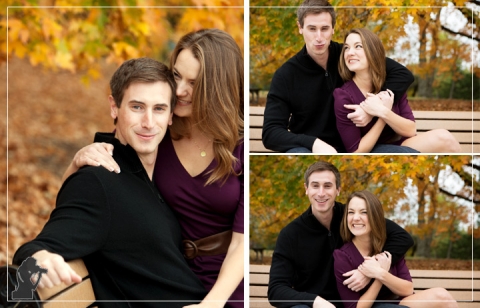 Internationally
award winning
photography studio