Q::        For readers that are not already familiar with your company, Meadowbelle Market Jewelry & Meadowbelle Fashion Accessories can you describe & tell a little more about it?
We create handmade jewelry and wedding accessories.
Erin specializes in working with sterling silver, gold filled and solid gold to create meaningful, delicate, wearable designs.  Aundrea has such an eye for style; she designs unique hand sewn headpieces, veils, sashes, and accessories perfect for weddings, special occasions, portraits, and any other time you mind find an excuse to require a little something distinct that makes you feel extraordinary.
Q::      How would you describe your style(s)?  I think all of your pieces look & feel like they could be made by the same person?! 
To put our styles quickly into perspective, Erin's style is more whimsical and Aundrea's is more clean and classic. Together, we combine our styles as well as our love of anything vintage and romantic to create beautiful modern designs that will stand the test of time.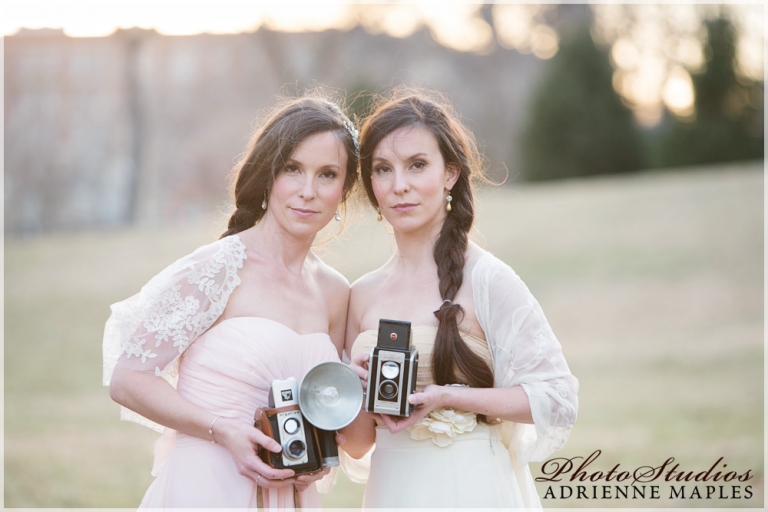 Q::      So let's put this out there.  You are identical twins (duh!!) tell us a little about some fun/freaky twin experiences?  (perhaps knowing when the other was going into labor?)  We all want to know!
ERIN:     Aundrea.  Halp!  IDK!  It's all fun but what is freaky fun?  We tried some mind reading techniques as kids which kind of sort of panned out.  One time I had a dream that my hands were super swollen.  I told Aundrea about it and she happened to be on some medication that were making her hands swell up.  Weird and not really that fun to know about….I'm sure I'll wake up in the middle of the night a month from now with the perfect story.  That one time in college Aundrea was walking across campus and a classmate of Erin's (who did not know she had a twin) told Aundrea she was headed the wrong way to get to class?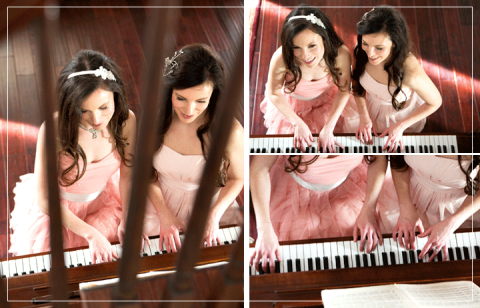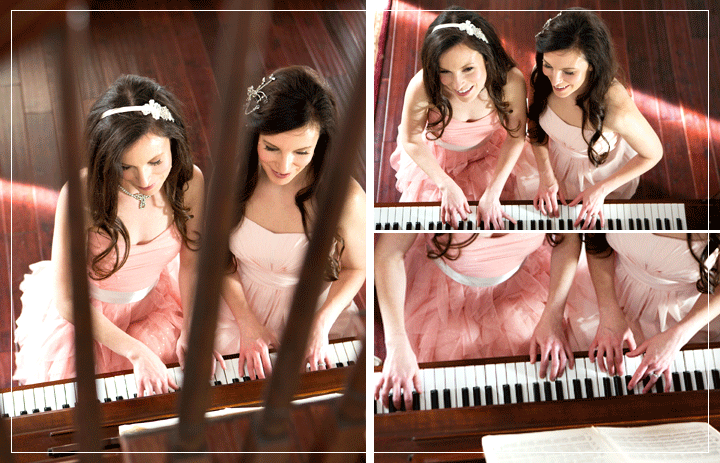 AUNDREA: What about that time we both went to the same store, at the same time (far outside of our ordinary routine) but didn't realize it, only to discover that had been the case when we both showed up (unplanned) at the same restaurant at the same time, hours later? That was good. There are probably more stories like this. Erin, if we wake up in the middle of the night with the perfect story, it will probably be the same story, at the same time!!
Seriously though, people think we must be exactly the same, and in so many ways we are. But fortunately, we have differences too that really enhance our creative and practical ability we bring to the table when we're working together. We're like one person, only better because we fill in any gaps where we might be opposite. Most notably, Aundrea is a detail oriented planner, Erin is a visionary who can see an idea and run with it.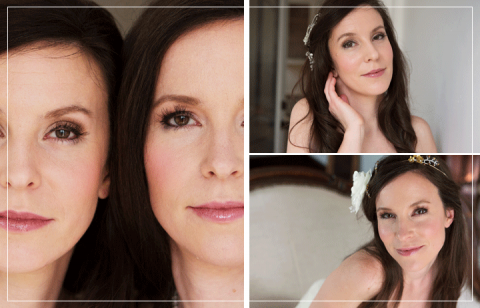 Q::       What inspires your designs?
ERIN:   Even though I make jewelry for a living, I've never actually worn a lot of jewelry.  Sure, I love it as much as the next gal, but you'd think I would be more obsessed considering my chosen path.  I've always gravitated towards creating dainty jewelry.  Maybe because I am kind of a small person myself.  Maybe because I just adore wearing beautiful, understated little pieces that hold special meaning – like a secret only I know – be it a birthstone or initial as a constant reminder of the ones I love.  My current passion is for rings, which I started wearing and creating a lot of when my son was born since necklaces and earrings weren't as practical for the time being (no way I'm loosing an earlobe at the curious little hands of an infant, thank you very much!).

AUNDREA:   My inspirations come from many different things all around me. I make mostly bridal pieces so I work in lots of shades of white, ivory, and pastel. To add interest, I am always inspired by new textures & am constantly searching for them. I love many fabrics, from cotton to satin, organza, silks, and lace. I also do lots of hand sewing, beading, and working with metal. When I'm looking for supplies I often find inspiration in vintage clothing or jewelry, and I love using such pieces for a new purpose in my designs. I buy pieces I love, not always knowing what they will become.
I'm also inspired by my customers. I love when a bride who wants something unique and personalized brings me her ideas. Working together on a custom piece that reflects an individual's personality and style results in something with beauty and meaning, which is always inspiring.

Q::      What is your favorite thing to design?
ERIN:  Guess I just answered this one!  Rings, right now!  I love coming up with a new way to incorporate personalized elements and special symbols into my jewelry.  For example, I recently put a twist on my Love Letters necklace (two initials connected by a heart) with the option to further personalize the center of the heart with a short word.  Thus was born my "sisters" or "besties" necklace.  The customer becomes part designer as well because they select the special custom elements that will be included in their personal piece.   I LOVE being able to mix-and-match my designs.  When I create new pieces, more often than not, they can be worn not only alone but also matched with existing designs in my shop for a fun layering effect – also great when adding new babies or other members to the family!
AUNDREA:  Items for weddings. I imagine a bride's veil or hairpiece taking a special place on her wedding day, and perhaps one day being passed on to a daughter or granddaughter. I especially love incorporating heirloom wedding items from a bride's own collection. For my best friends's wedding day, I used fabric flower elements from her mother's wedding veil to make a hairpiece, then created a new veil for her. The piece from her mother's veil took on a whole new life.
Another time, a bride sent me her mother's wedding dress so that I could incorporate lace and fabric into a custom hairpiece for her. She sent me the entire dress, so I had to take it apart myself to retrieve elements and fabric for the hairpiece. My most nerve wracking moment was when I found myself sitting in front of her mother's wedding dress, pair of scissors in hand, waiting to take the first snip.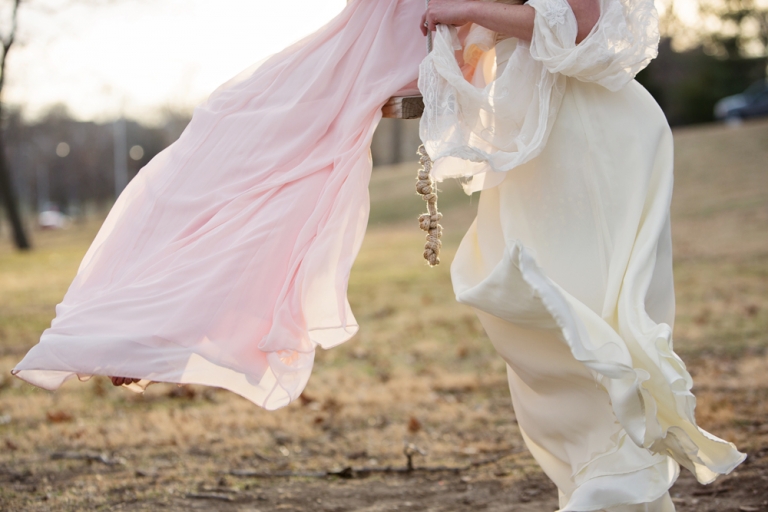 Q::      Anything exciting in the works that we should know about!?!
ERIN:    OMG I'm so lame there is nothing exciting about me!
Okay, if I HAVE to brag- let's throw out this little tidbit since it relates to jewelry making:  To date, two famous singers (one is also an actress) have purchased my jewelry.  Sorry I can't say who – client confidentiality (it's killing me)!  I'm still looking for an accidental shot of one of them wearing my design in the tabloids or something.   Also, my gold dual birthstone ring was purchased a couple of years ago by the wardrobe stylist for The Young and the Restless.  I would LOVE to make a free ring for the first person to tell me in which episode the rings appear!
AUNDREA:   Yes! Our photo shoot with Adrienne! We're excited for our new website too–we can't wait to have everything we love and create in one place.  I have so many beautiful vintage materials just waiting to be used….  be on the look-out for more one-of-a kind bridal pieces to appear!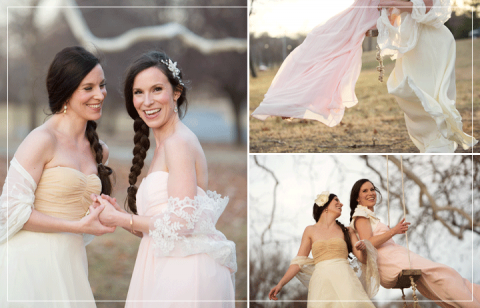 Shop for your own personalized accessories at Meadowbelle Market HERE!